So I've been working on this custom home in the harbor for over 3 years now, the last of which is currently on hiatus.
This duration is VERY common in the design industry as it takes a loooooong ass time to renovate a home, let alone build it from the ground up.  
By the time the clients have somewhat settled into their new space, they're usually so
exhausted
from all the planning and construction that they'll take a minute to recoup and unwind before diving right down to the details in the final phase. In this case, they've taken an entire year off, but hey!
Who's counting?
So now this break becomes the perfect opportunity to share what I've been doing for the last couple of years on this incredibly gorgeous, incredibly custom estate!
Starting with one of my favorite elements of a home:
The Guest Bath
Second only to the master suite, the guest bed and bath should evoke a sense of warm and luxurious hospitality, like you're staying at a super posh hotel that charges more per night than a pair of Louboutins. I typically design the guest quarters with so much detail that often clients stay in there more than their own master bedroom, lol.
Before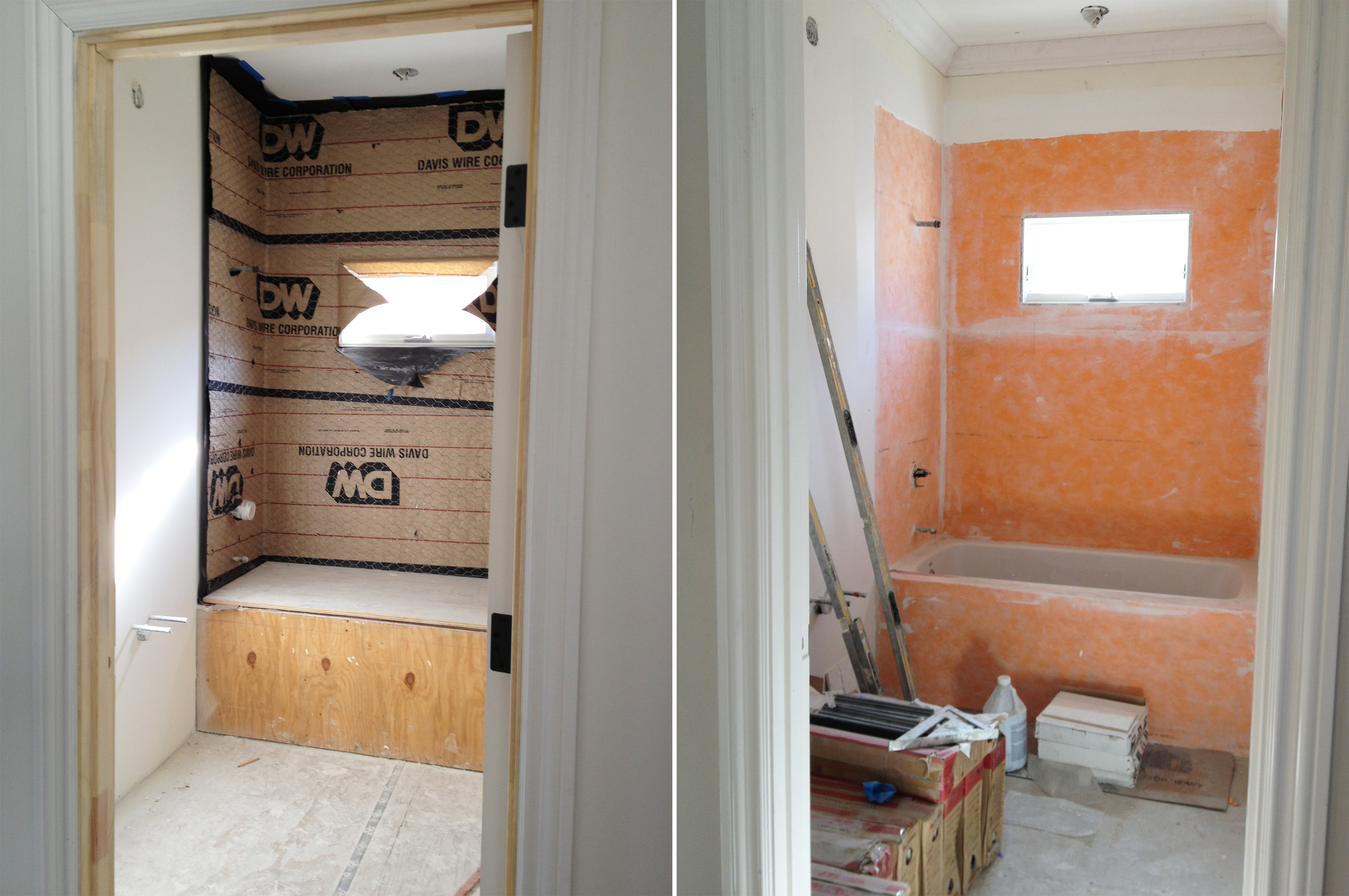 Finishes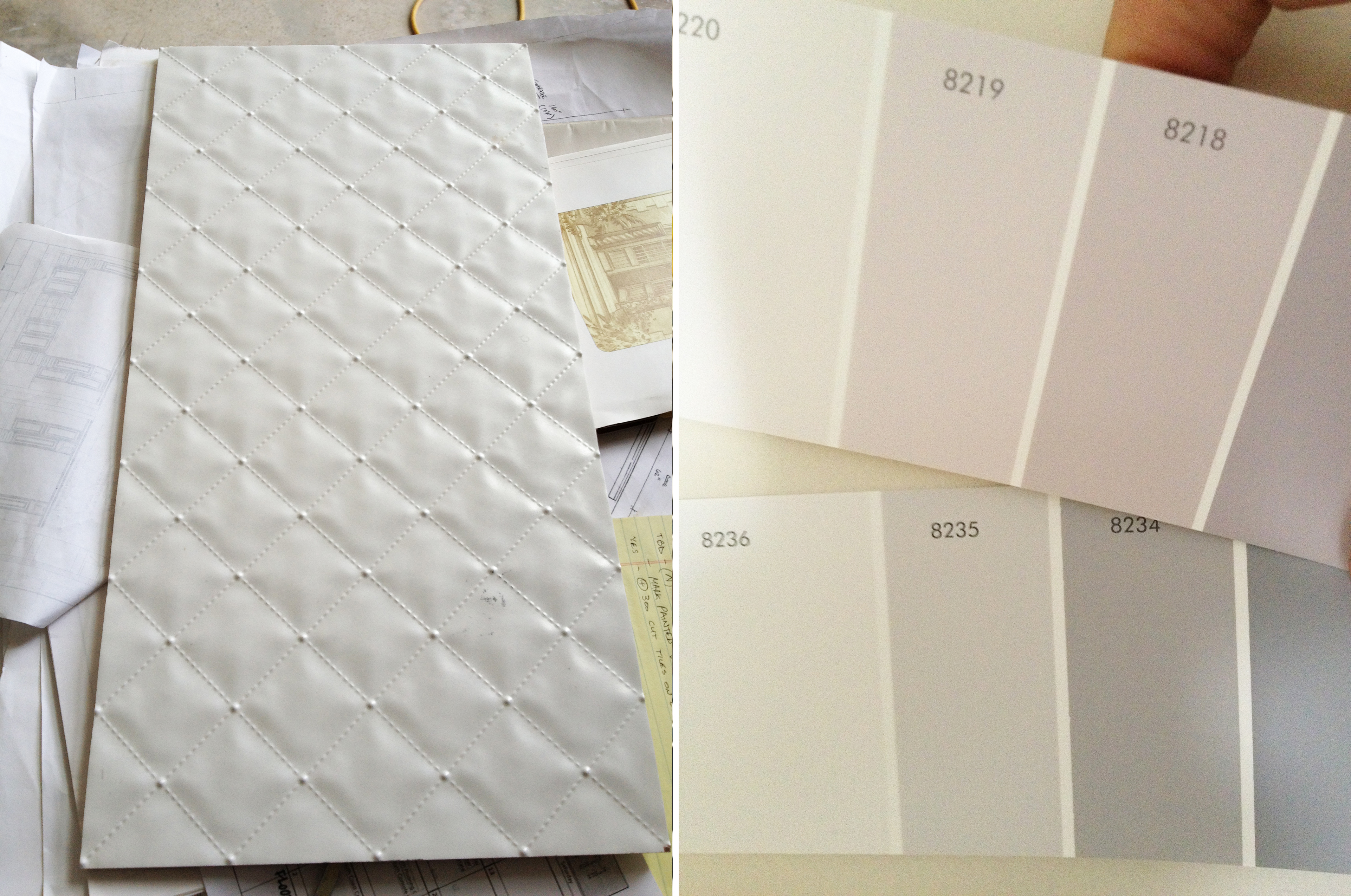 I found this porcelain tile at my vendor's shop and fell in lalalaLOVE with the raised diamond tufting! Like a quilted Chanel bag, how can one resist? So chic, my client and I decided to base the entire color story off of the metallic white glaze and pulled in soft shades of lavender/grey to complement the look. Tufted walls, check!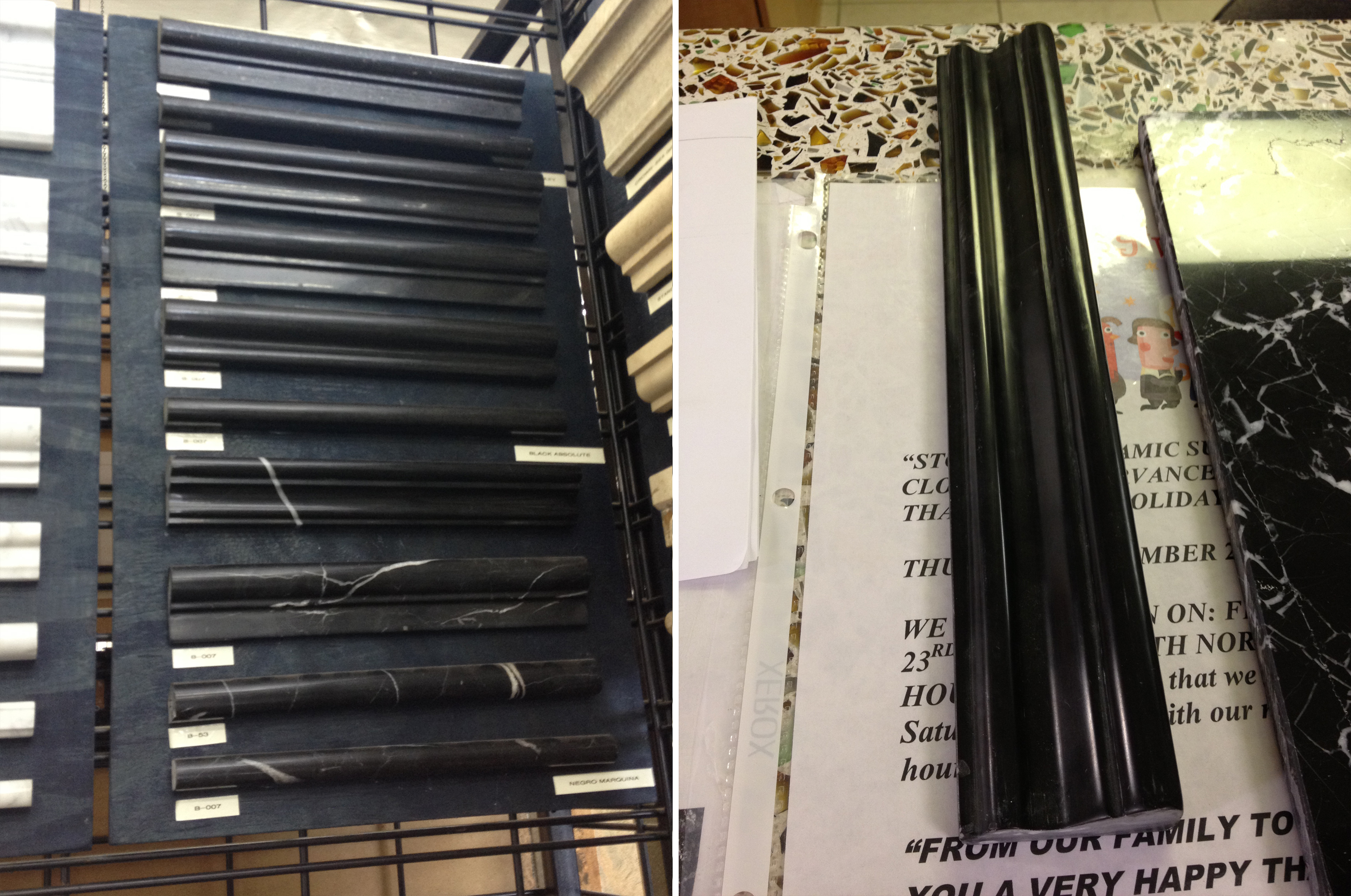 Flooring and Trim
TONS of coordinating molding must be decided before we even get down to the details! Which often means selecting (and reselecting) the right pieces before locking down the entire design.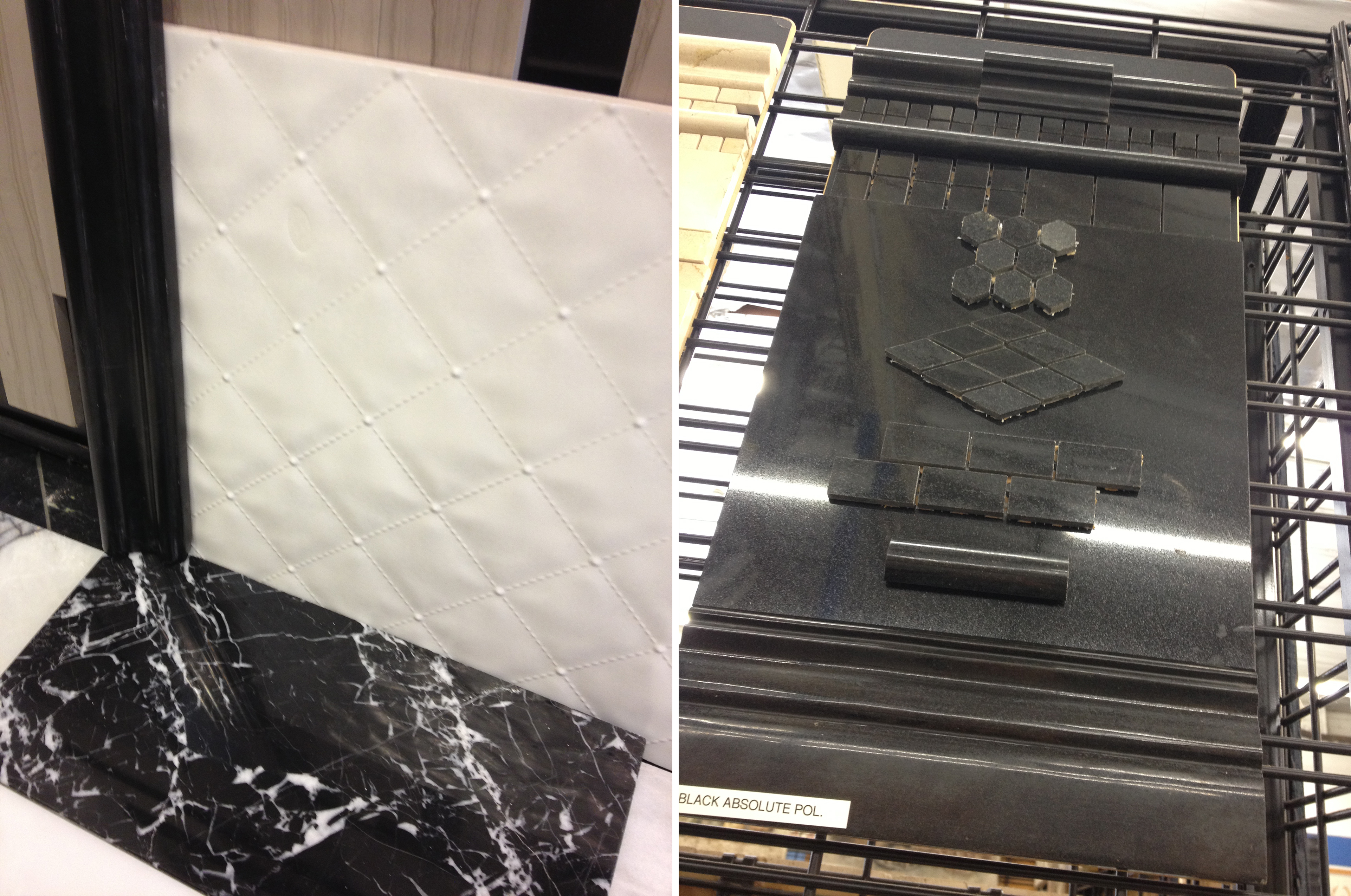 Black granite for high contrast! So luxe and refined…  Stone trim, check!
Floor Pattern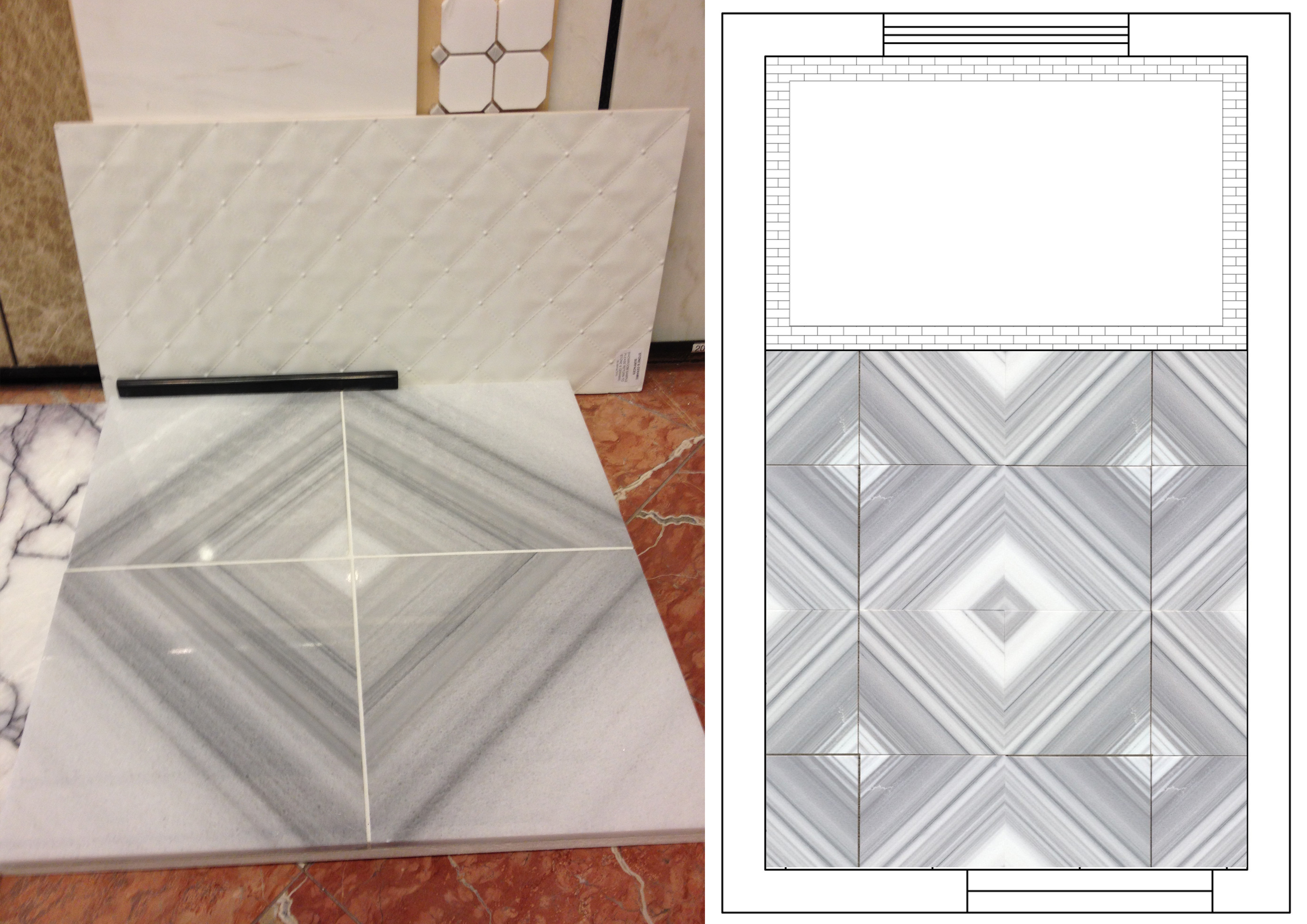 I found this superFAB Carrara marble tile and went NUTZ for its inherent gradient lines. When you piece 4 of them together, they make the coolest diamond pattern. Not sure of what size to go, small or large? Lotsa photoshop scenarios to present for approval before pulling the trigger…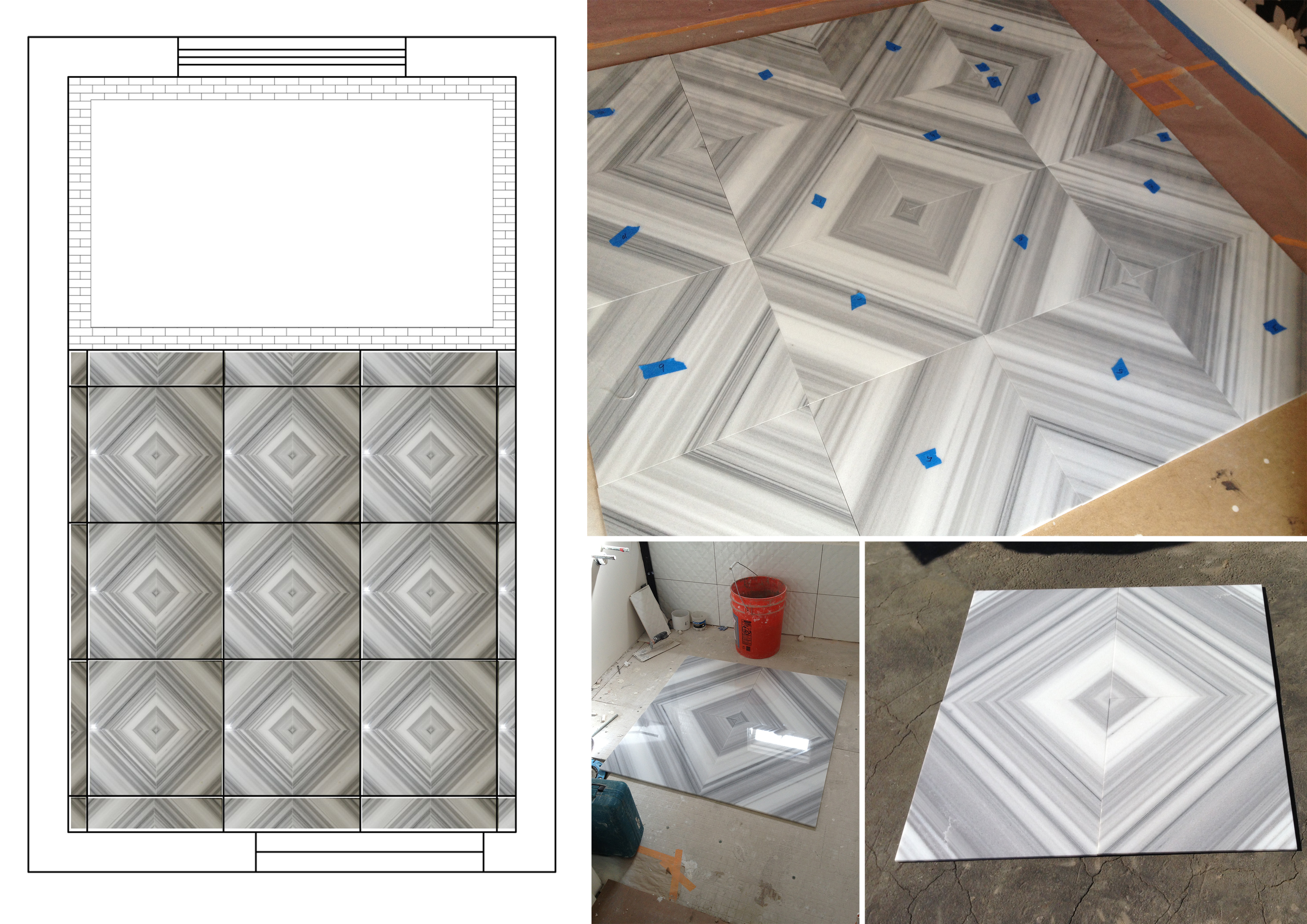 Ultimately, the lines didn't all match up (contrary to what my photoshop images depicted), we scratched this idea entirely (after weeks of debating) and instead opted for something much simpler without a lot of variation.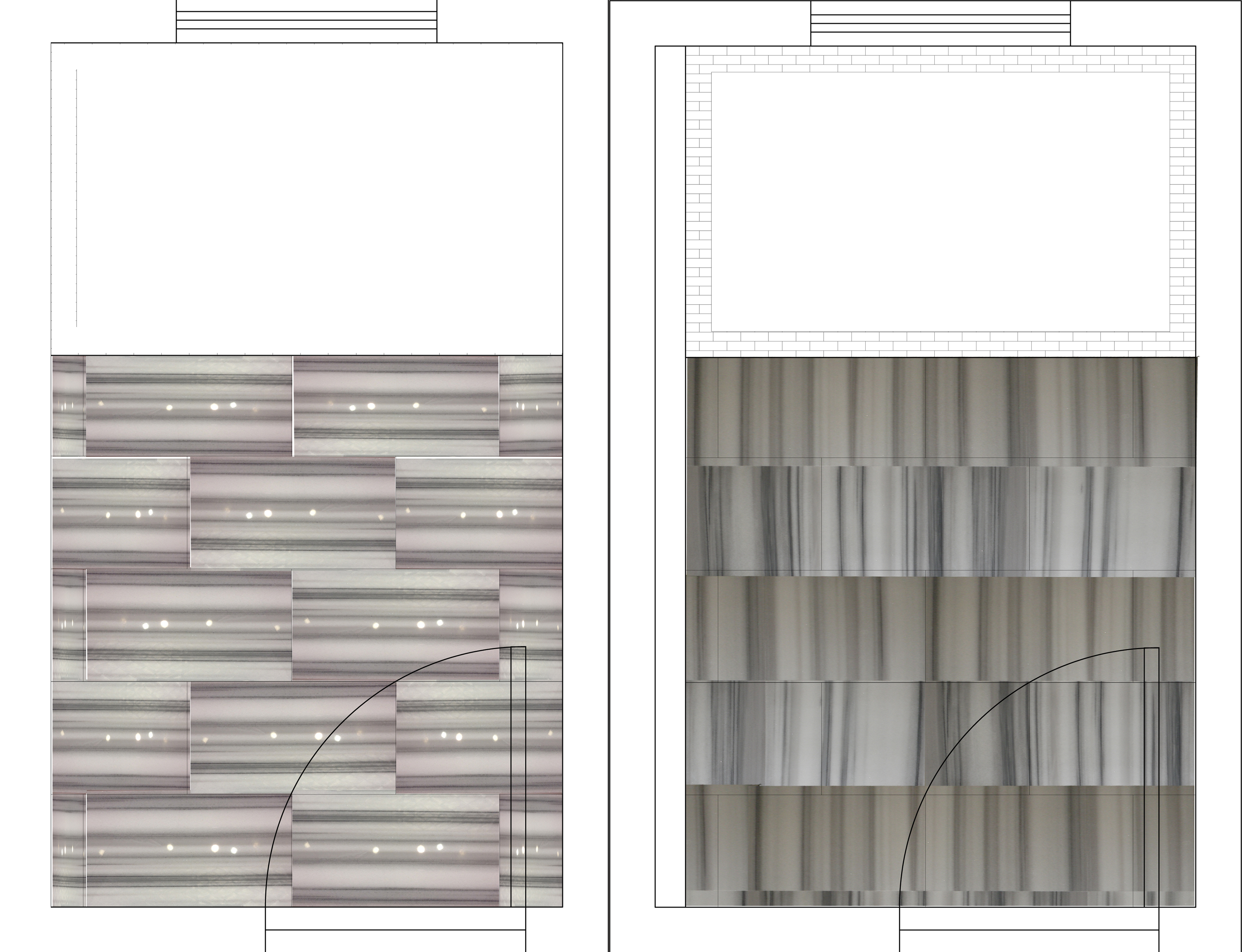 But alas, even these marble stunnas didn't make the cut and the search continues…
No > No > Meh…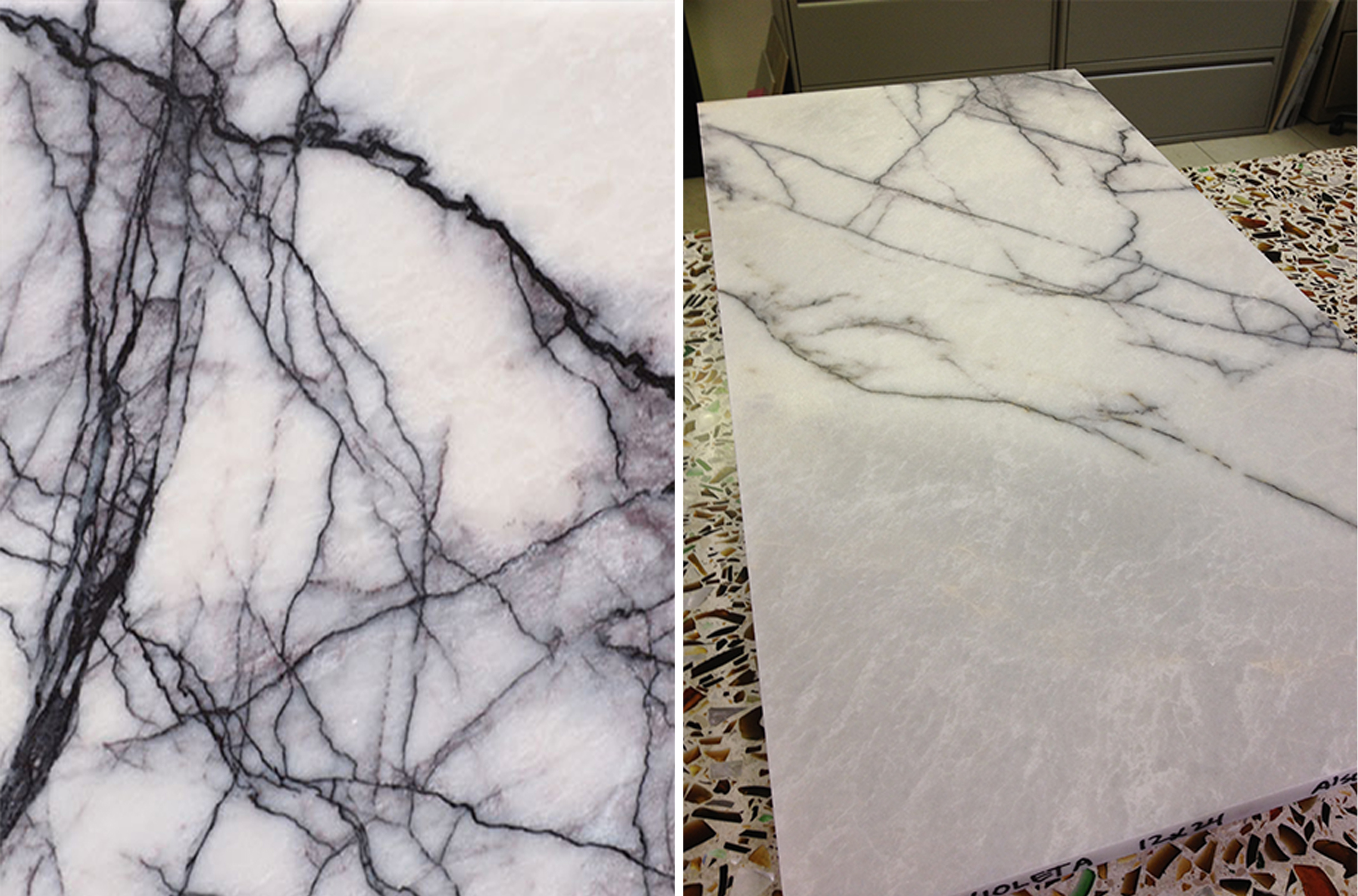 Yes! Yes! Yes!
We FINALLY found the winner y'all!
Translucent white marble with the MOST magnificent violet lines running jagged throughout the body. Perfect color story to coordinate with our walls and black trim, she was soooo right on! And while the large 12×24 tile was only somewhat usable, we had to trim off an additional 50% white excess to make sure each resulting 12×12 square had a similar look.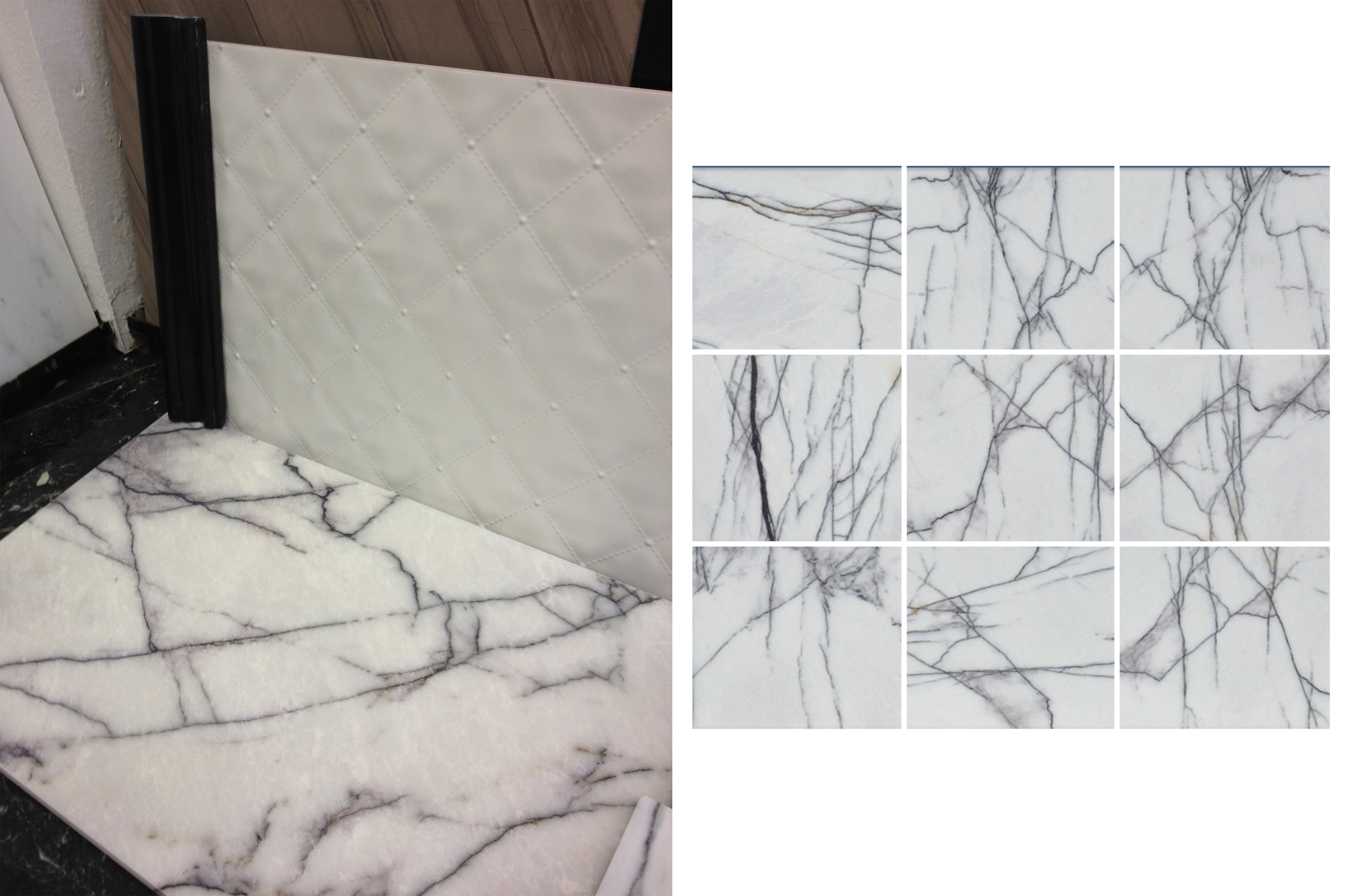 Gotta lay them all out before we commit to the final installed pattern…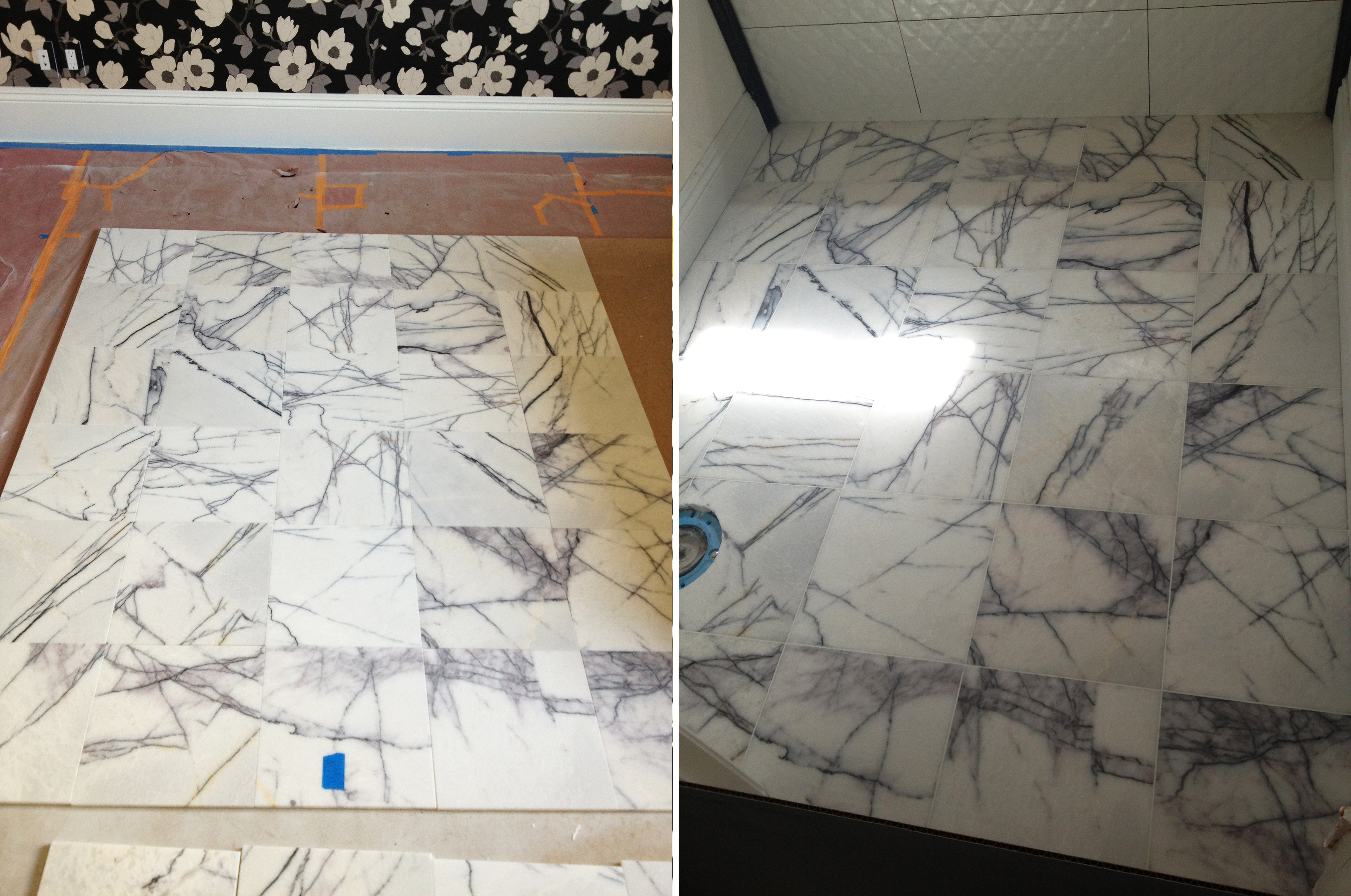 Flooring, check!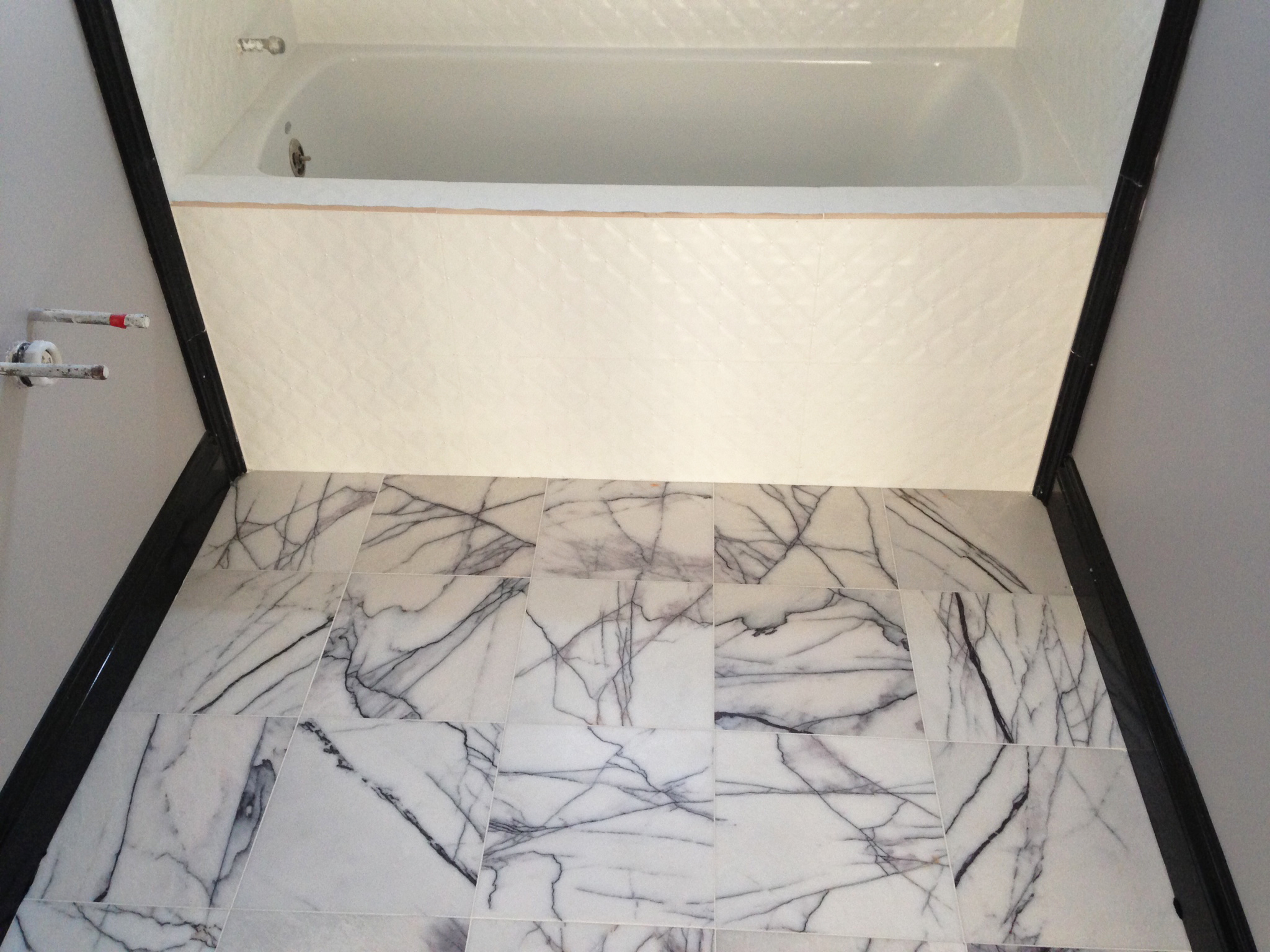 Custom Finishing | Shower Curtain
From my inspiration image (below left) I knew I wanted to design the shower curtain with a bold thick trim for our high-contrast look. After deciding on 1.5″ grosgrain ribbon, I lined the front-facing side with washable lavender blackout drapery and the rear-facing side with a white soft vinyl-like material. Made for wet applications, the white textile is easy to dry and perfect for keeping the shower/tub interior bright like our tufted porcelain tile.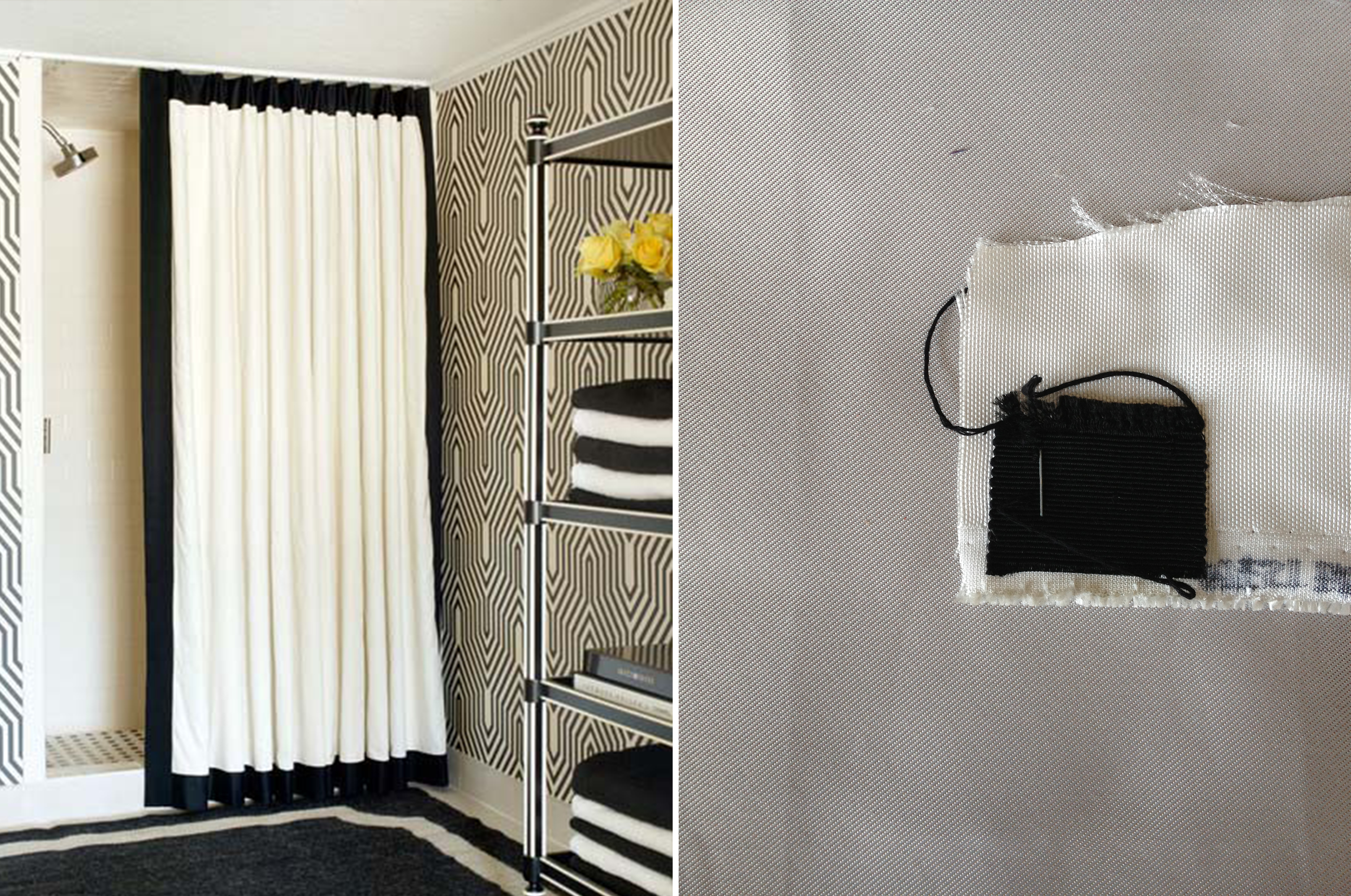 One thick border vs. Two thin borders?
Which do you prefer??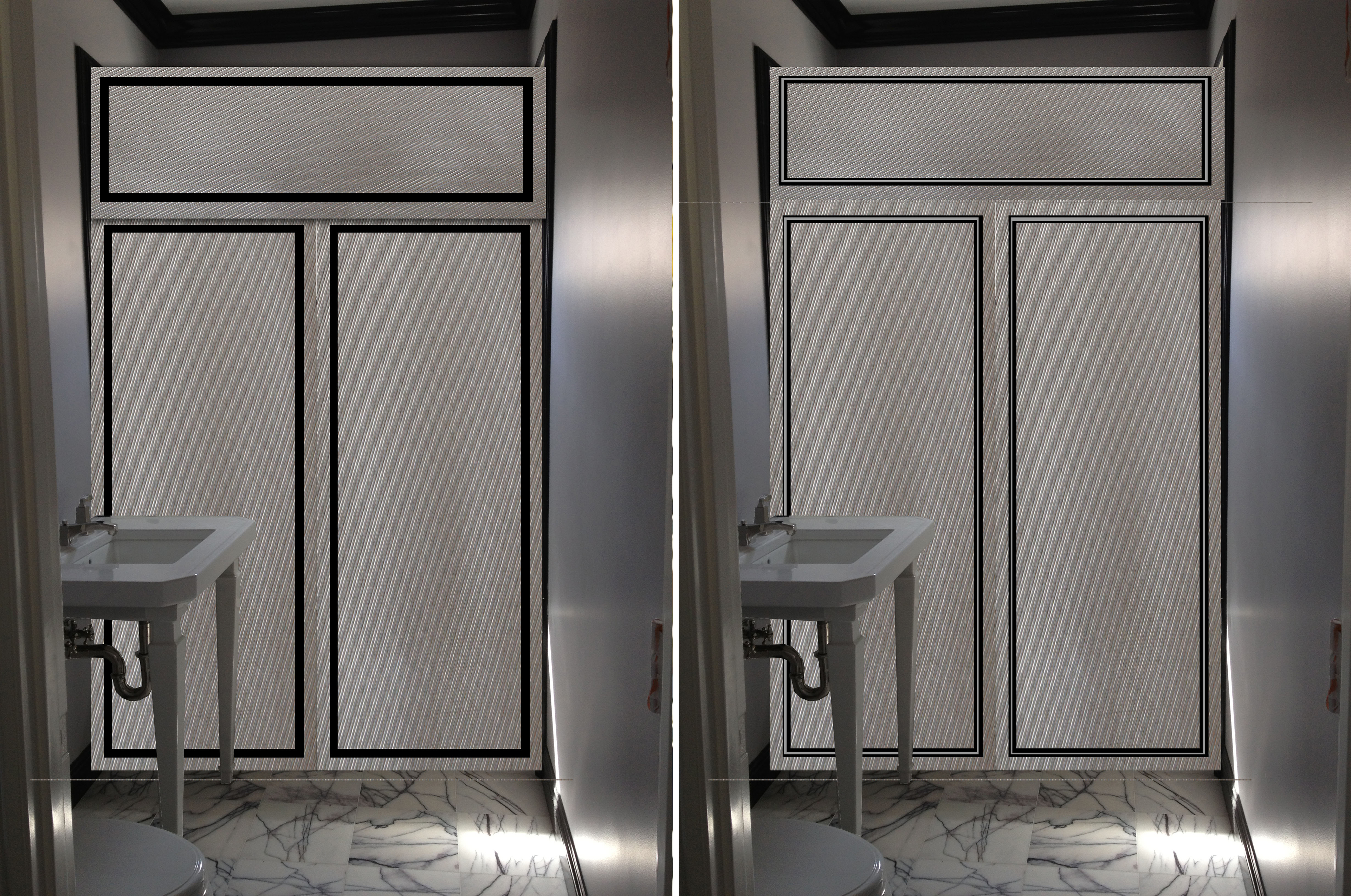 Textiles, check!
Keep in mind that these are ALL progress shots; nothing has been finalized, let alone staged for high-Pinterest value. As you can see, I make VERY bold statements. The best of which is usually saved for the guest suite where you can get a little crazier in there since it's designed for short term stays.
Finale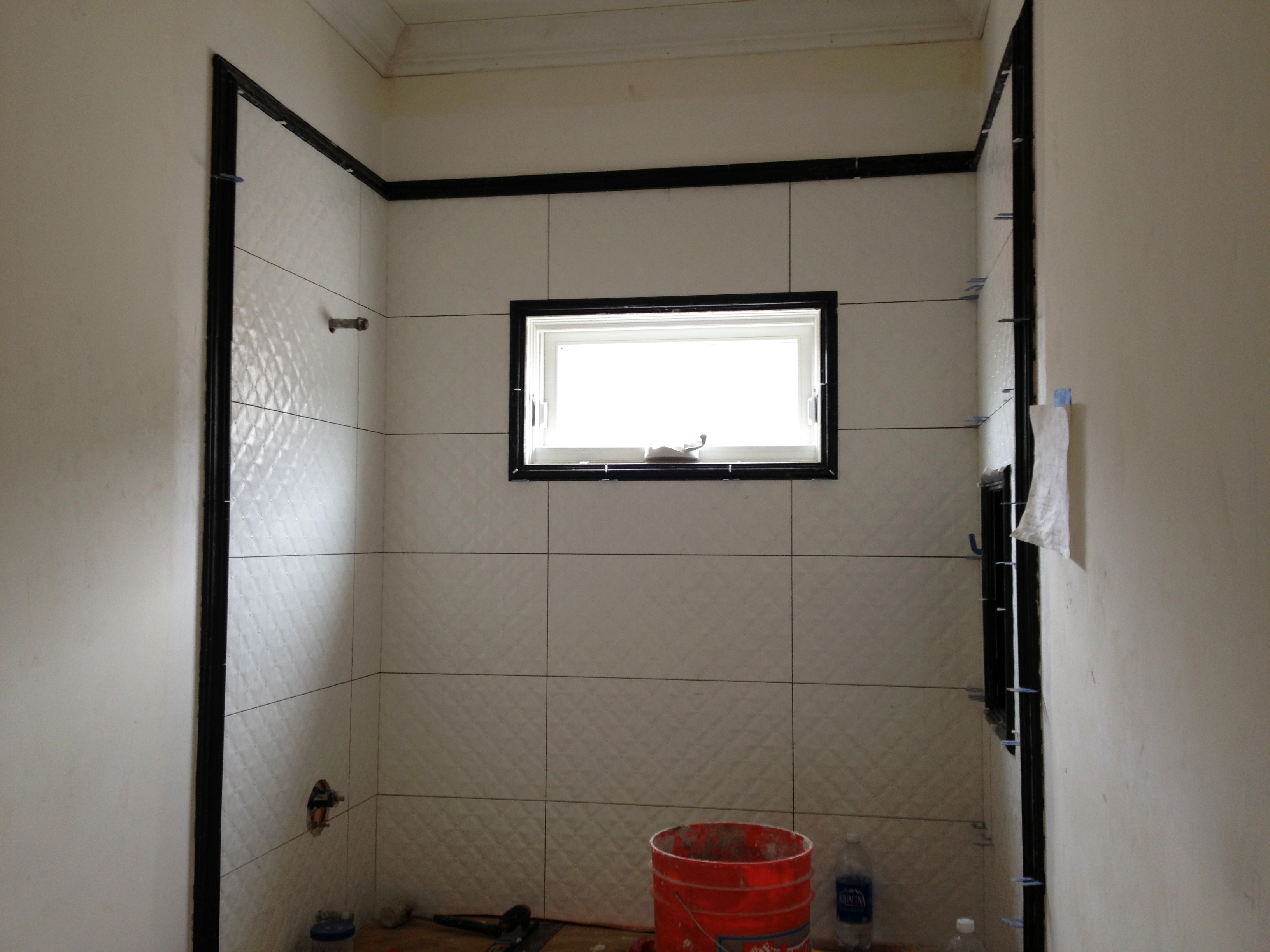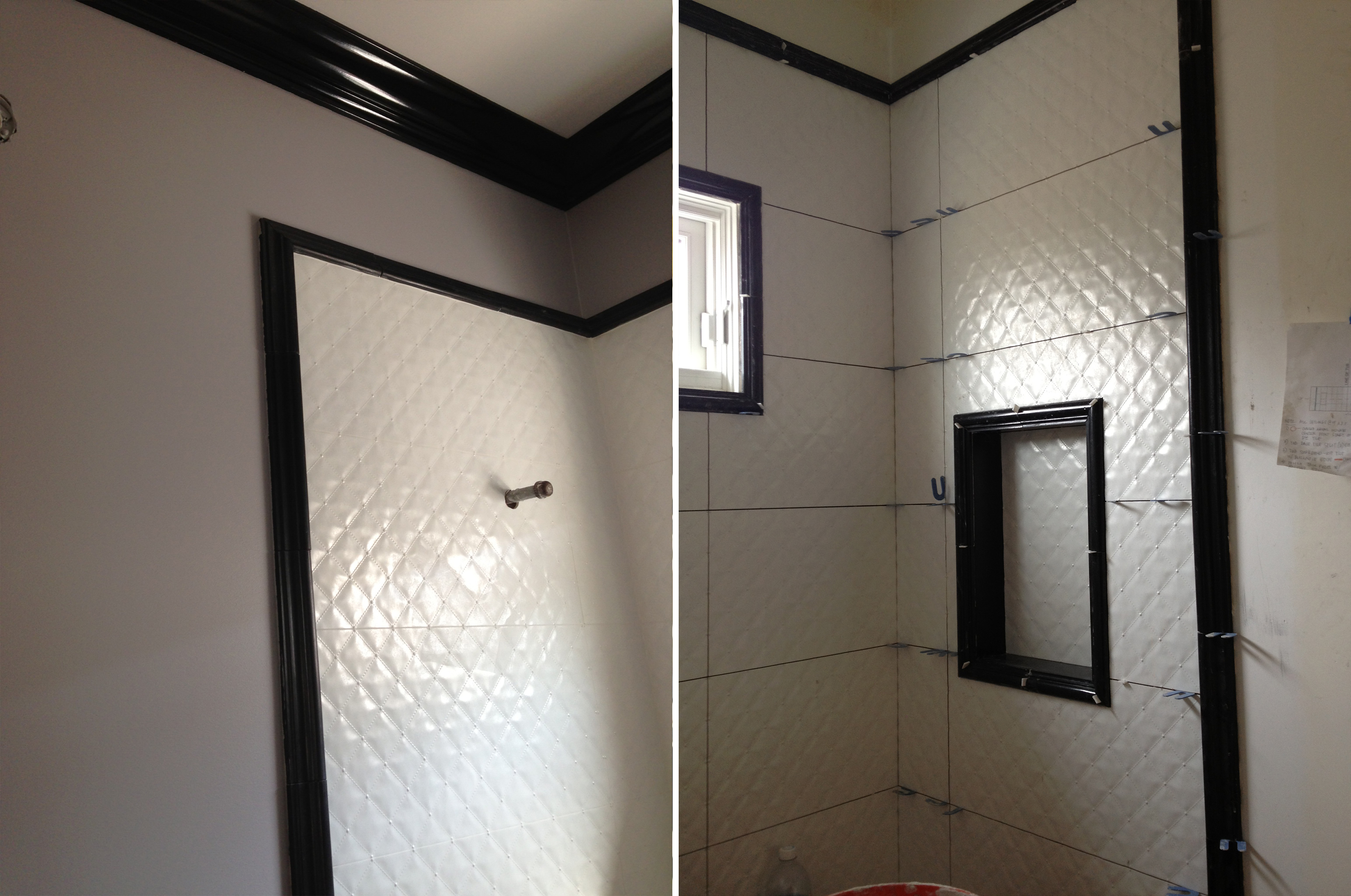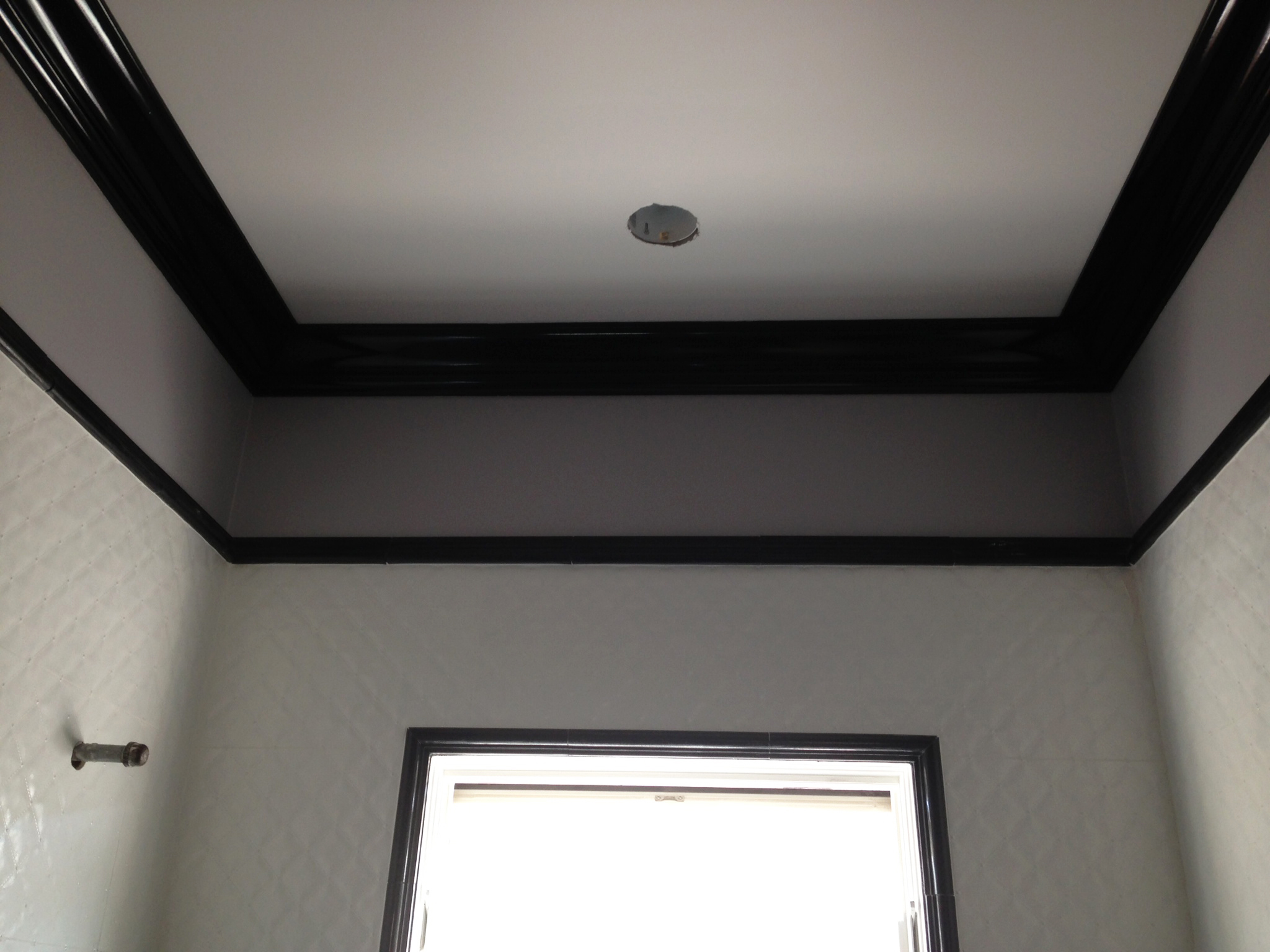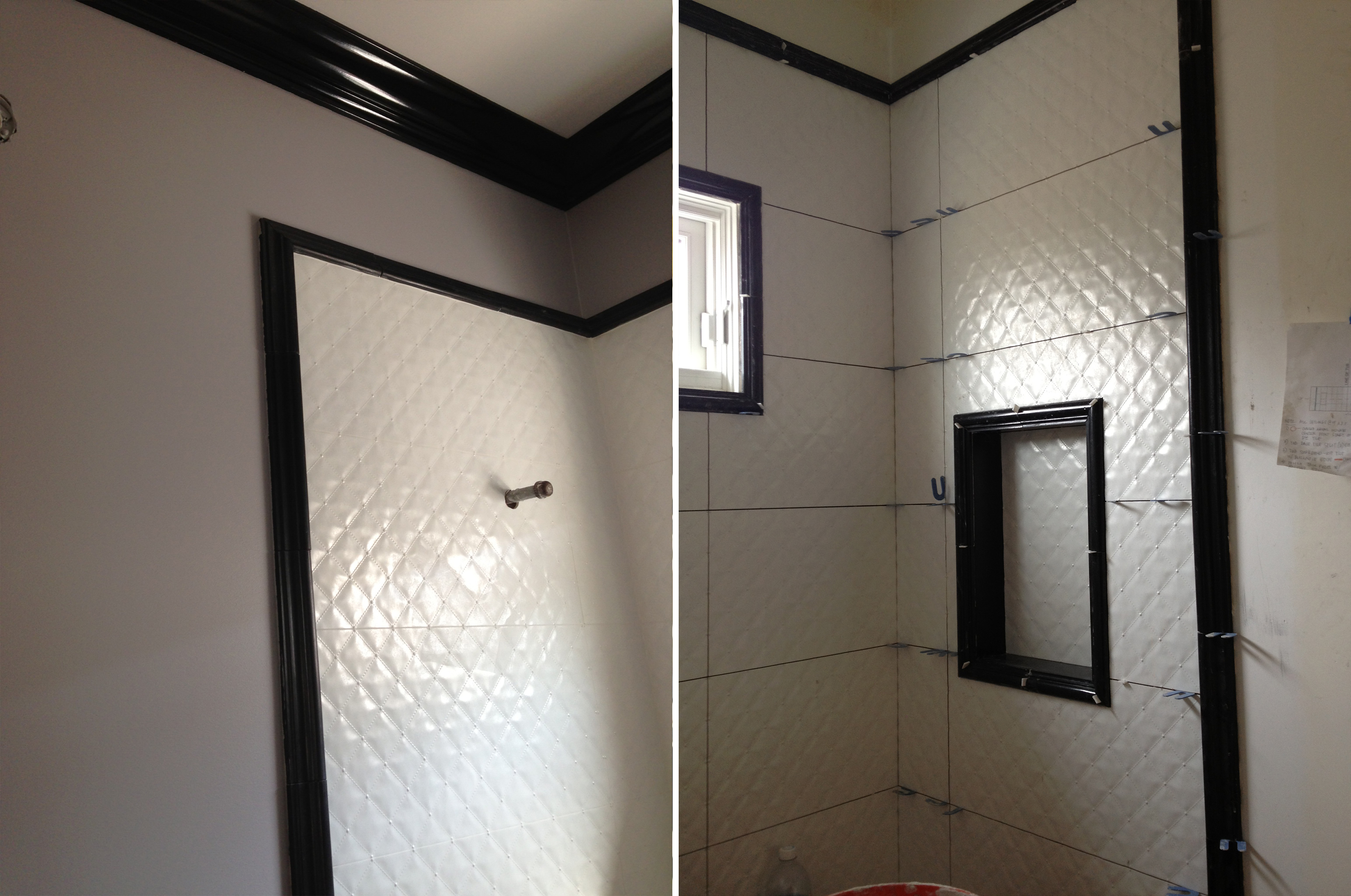 Materials: Porcelain tile | Granite trim | Custom Bath Drapery | Marble Tile
Reveal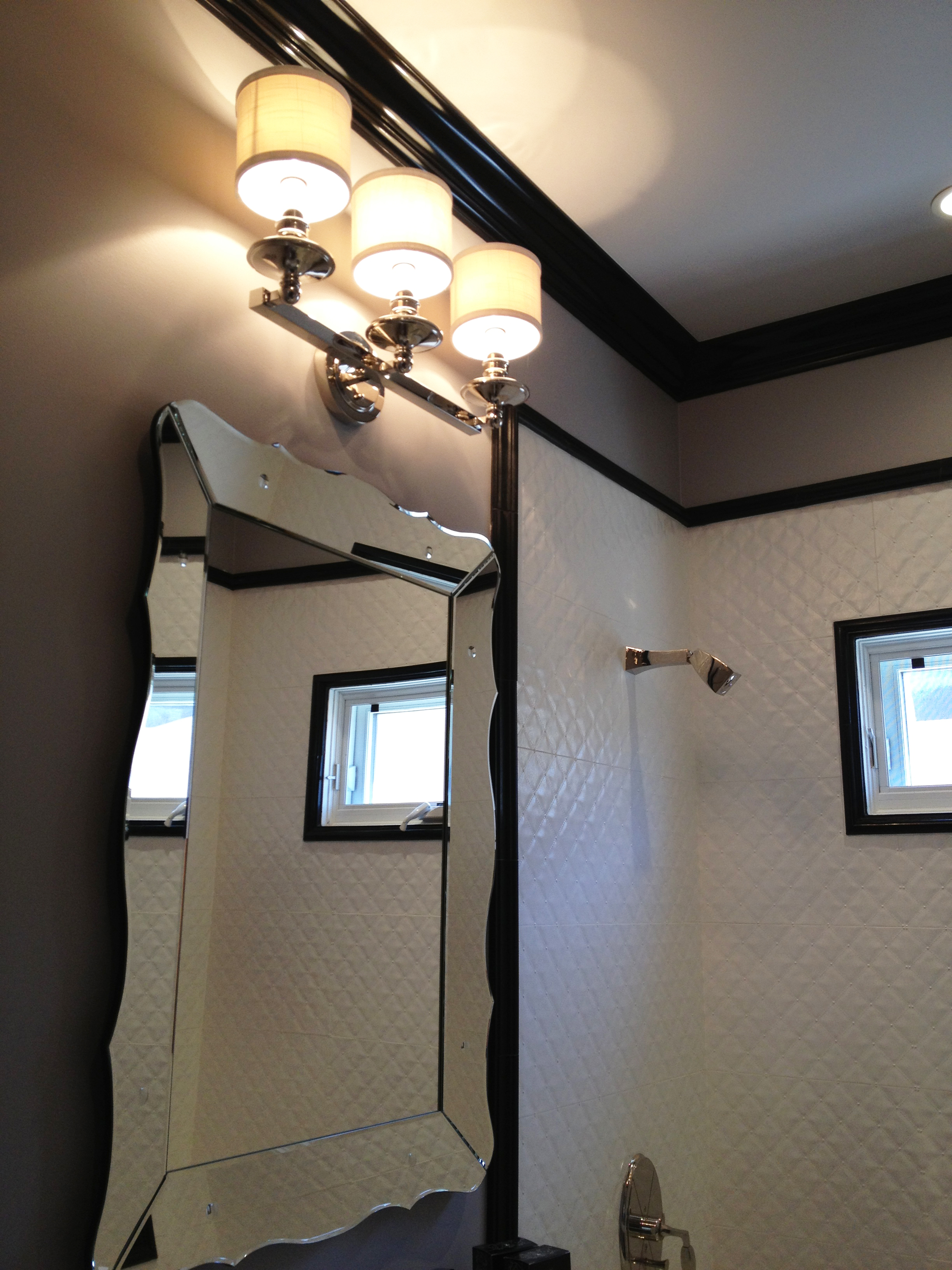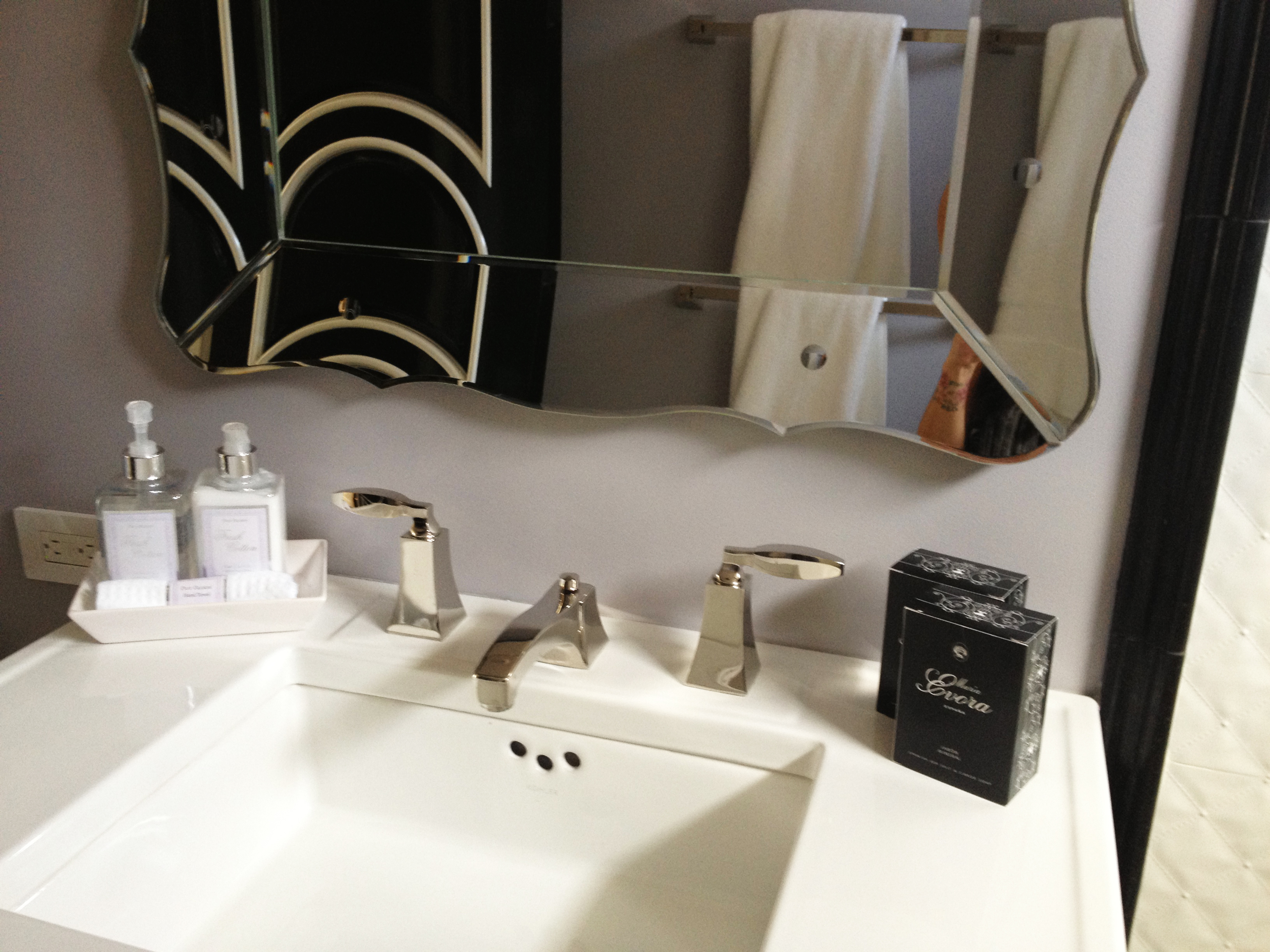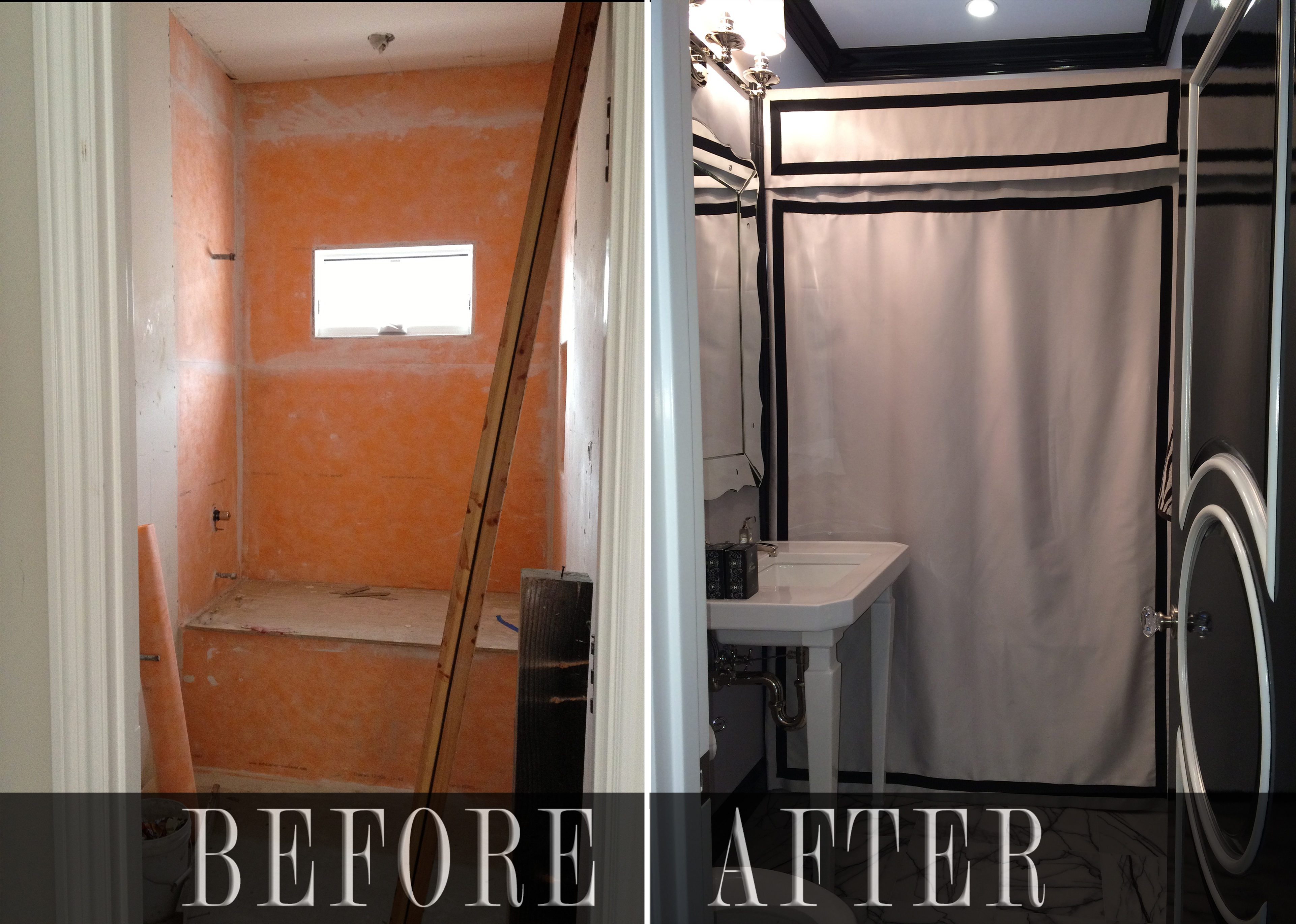 YUP! ALL THIS for a teeny guest bathroom.
Can you imagine the work that goes into building the rest of this 5000sf custom home?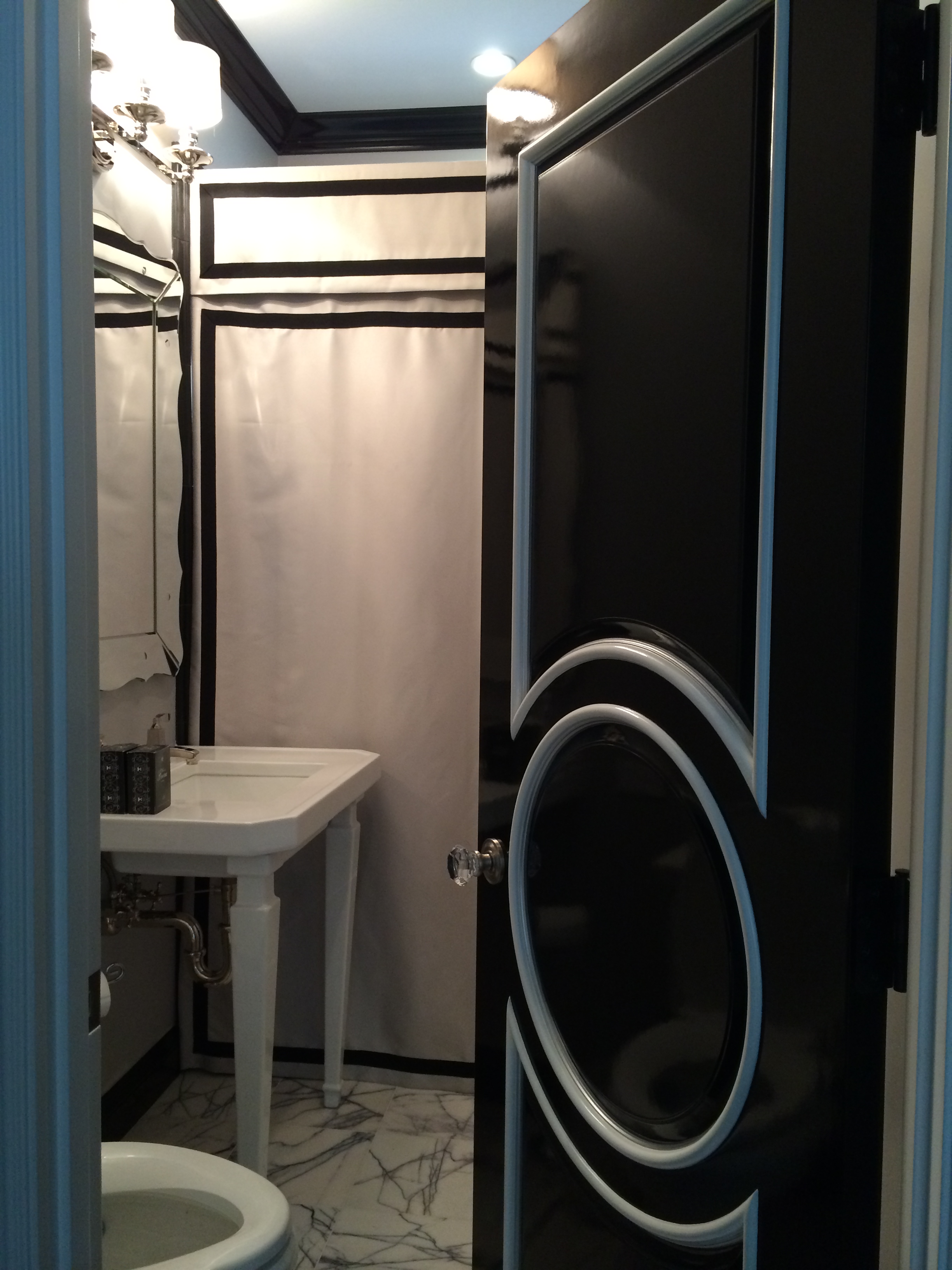 Granted I haven't seen the progress she's made since this last shot, but 'tis designer life my loves!  One day you're in, the next you're out!  Lol… But I'll be baaaaaaack! And with professional pictures to prove it!   In the meantime, follow along as I begin to detail every facet of my designer life from this Glam-Luxe project to the next!